SPB-PC started as a Projects and Consultancy Division of Seshasayee Paper and Boards Limited (SPB), to plan and execute the mill's expansion and development schemes in SPB.
This Division also planned and executed Tamil Nadu Newsprint and Papers Ltd (TNPL), a 100,000 tpa newsprint cum fine paper mill based on bagasse from concept to commissioning with World Bank financing including equity through IDBI, the lead Indian Financial Institution.
TNPL was commissioned in a record time of 36 months from finance tie up. A high performance, low-cost producer, TNPL's commercial success has been evidenced by its continuous growth. TNPL is today's world's largest and most successful bagasse based integrated paper mill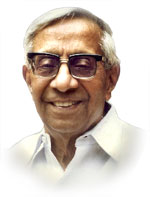 S. Viswanathan
(1915-2001)
Founder : ESVIN Group
With the completion of TNPL, a separate consulting company in the name and style of SPB-PC was born in 1984.
The Mission of SPB-PC has been to be a Business Undertaking offering consultancy services in its areas of expertise, with a rare mixture of Arts and Science, essentially creative in its outlook, abrest of the latest state-of–art in the related technology and deeply committed to efficiency and ethical values in the discharge of its responsibilities.
The SPB-PC Organisation is structured broadly into three distinct groups viz. a Consultancy Services Group, a Project Services Group and an Operations Management Group. The Consultancy Services Group, which forms the core of the Organisation, is manned by engineers, planners, specialists, financial experts, economic analysts and design specialists with extensive experience in the related industries. SPB-PC, being the engineering base of a multi-sector Group of Companies, the Project Services Group and the Operations Management Group are augmented by consulting technologists and specialist manpower seconded from the associate group companies operating in the fields of pulp and paper, sugar and power generation.